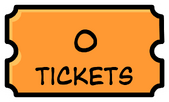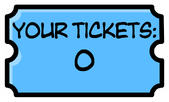 Tickets are an exclusive virtual currency on Club Penguin Rewritten, that can been earned by playing games during Fair. They can been spent on certain prizes at the Prize Booth during the event.
At The Fair 2017, when you left the server, all the tickets you'd earned in-game were gone, so it would've been best to spend them on prizes before you did so. This does not happen in The Fair 2018 or The Fair 2019.
The Fair 2019 introduced golden tickets, which can be used to spin the wheel at Spin To Win for a chance to gain a variety of prizes. One golden ticket is obtained by logging in daily. Further tickets can also be received randomly after playing a game at the fair, or bought for the price of 10,000 regular tickets.
Trivia
During The Fair 2017, there was a glitch where you would randomly earn loads of tickets from playing games.
This is the third virtual currency in Club Penguin Rewritten. The first was Coins, second being EPF Medals.
During The Fair 2018, there was a bug where you could spend tickets on items you already owned. Doing so would reset your ticket amount.
Clicking on the ticket counter during The Fair 2018 opened the Global Prizes interface.
Clicking on the ticket counter during The Fair 2019 opened the Mystery Prizes interface.
Gallery
Community content is available under
CC-BY-SA
unless otherwise noted.