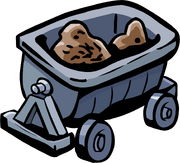 A Mine Cart (or Minecart) is a type of rolling stock found in the mine railway of Club Penguin Rewritten. They are shaped like large buckets made of steel with four wheels.
Upon the discovery of the Mine, it was believed to be used for transporting materials in the process of traditional mining. Today, the mine carts are commonly used for the game Cart Surfer on the Mine's rail tracks.
Appearances
Community content is available under
CC-BY-SA
unless otherwise noted.