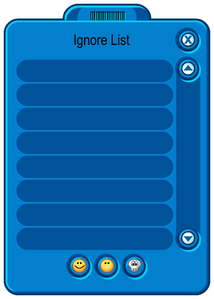 The Ignore List is a list of all your ignored users. Ignored users are penguins that you cannot see or interact with. It can be accessed by clicking the smile button on the Toolbar at the bottom of the screen, then the skull button on the Buddy List. 
Features
The Ignore List is the counterpart to the Buddy List. Penguins who are ignored (via their player card) will appear on the list. You can wish to un-ignore them from here. Ignoring a player also means you will not be able to receive any messages or postcards from them.
The Ignore List, shows all your Ignored Users in alphabetical order.
Ignore/Un-Ignore User
If you want to ignore a penguin, click on their player card and press the button with the skull on it. To Un-ignore, click on their player card and click the Skull, which now has a red X over it.
Trivia
The skull emoticon can only be seen here.
You can ignore more people than you can add on your Buddy List.
Gallery
Community content is available under
CC-BY-SA
unless otherwise noted.