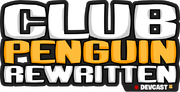 Devcast is a live podcast hosted on Stu's YouTube channel by the staff team. It provides an opportunity to hang out with some staff members from Club Penguin Rewritten and ask away your questions to the team. Card-Jitsu code giveaways and sneak peeks are sometimes shared on the live stream.
History
The first devcast was streamed on September 23, 2018.
The second devcast was hosted on October 24, 2018. It was a charity stream for the Make a Wish Foundation. Screenhog joined as a special guest. By the time the stream ended, over £1,250 was raised.[1][2] By October 25, 2018, the money raised had increased to £2,166.81.[3]
A third devcast was hosted on March 14, 2019. Much like the second devcast, it was a charity stream, with donations going to Comic Relief. Donating would reward you with a Treasure Book code. Over £2,000 was raised by the end of March 14, 2019; and over £3,000 by March 16, 2019.[4]
List of Devcasts
Trivia
Hagrid was supposed to attend Devcast #3, but couldn't due to personal reasons.
Gallery
Videos
References
Community content is available under
CC-BY-SA
unless otherwise noted.