(15 intermediate revisions by one other user not shown)
Line 1:
Line 1:
−

{{DisambigText|Binoculars (disambiguation)}}[[File:Cove Binoculars.png|thumb|190x190px|Regular view from the Binoculars]]

+

{{DisambigText|Binoculars (disambiguation)}}

 
+

[[File:Cove Binoculars.png|thumb|190x190px|Regular view from the Binoculars]]

 

'''Cove Binoculars''', commonly known as '''Binoculars''', are located at the [[Cove]]. They don't have a main function, other than to change views for various parties and events.

 

'''Cove Binoculars''', commonly known as '''Binoculars''', are located at the [[Cove]]. They don't have a main function, other than to change views for various parties and events.

 
 
−

== Trivia ==

+

==Trivia==

−

* Every 9 seconds there is a chance to either see [[Fluffy the Fish]] jumping out and into the water, or the [[Hydro Hopper]] boat driving by.

+

*Every 9 seconds there is a chance to either see [[Fluffy the Fish]] jumping out and into the water, or the [[HydroHopper]] boat driving by.

 
 
 

==Gallery==

 

==Gallery==

 

<gallery>

 

<gallery>

−

Hydro Hopper boat.gif|[[Hydro Hopper]] boat passing from left to right

+

Hydro Hopper boat.gif|[[HydroHopper]] boat passing from left to right

−

Hydro Hopper boat 2.gif|[[Hydro Hopper]] boat passing from right to left

+

Hydro Hopper boat 2.gif|[[HydroHopper]] boat passing from right to left

 

Fluffy the Fish.gif|[[Fluffy the Fish]] jumping from the water

 

Fluffy the Fish.gif|[[Fluffy the Fish]] jumping from the water

 
+

Halloween Party 2018 Cove Binoculars.png|During the [[Halloween Party 2017]], [[Halloween Party 2018|2018]], and [[Halloween Party 2019|2019]]

 
+

Operation Blackout Cove Binoculars.png|During [[Operation: Blackout]]

 
+

Christmas Party 2017 Cove Binoculars.png|During the [[Christmas Party 2017]], [[Christmas Party 2018|2018]], and [[Holiday Party 2019]]

 
+

Island Eclipse Binoculars.png|During the [[Island Eclipse]]

 
+

Sensei's Fire Scavenger Hunt Cove Binoculars.png|During [[Sensei's Fire Scavenger Hunt]]

 
+

Music Jam 2019 Binoculars.png|During [[Music Jam 2019]]

 

</gallery>

 

</gallery>

 
+
 
+

==SWF==

 
+

{{Rewrittenarchives|https://play.cprewritten.net/media/v2/content/global/binoculars/empty.swf}}

 
+
 
+

==See also==

 
+

*[[Beacon Telescope]]

 
+

[[Category:Interface]]
---
Revision as of 19:00, 28 December 2019
Were you looking for something else? Check out the disambiguation page.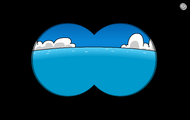 Cove Binoculars, commonly known as Binoculars, are located at the Cove. They don't have a main function, other than to change views for various parties and events.
Trivia
Gallery
SWF

Cove Binoculars Archives
Archived files on this topic can be found here
See also
Community content is available under
CC-BY-SA
unless otherwise noted.