Welcome to the Wiki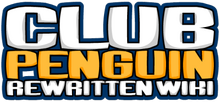 Welcome to the Club Penguin Rewritten Wiki, a comprehensive database founded on February 18, 2017 for all there is to know about Club Penguin Rewritten.
As of now, the Club Penguin Rewritten Wiki contains 4,917 articles and you can contribute to this number by adding or editing pages! The wiki is still in early development, so any contributions are heavily encouraged and appreciated to help out.
Club Penguin Rewritten Wiki Discord Server: https://discord.gg/HbQQzHa
Interactive Map
Below is an interactive map that you can use to navigate to each of the room's respective wiki page. Click on the room on the map to be redirected to the page.
Error: image is invalid or non-existent
Current and Upcoming Parties/Events
Main Article: List of Parties and Events
On-going party/event
Next Party
Upcoming Parties
Recent Activity