Welcome to the Wiki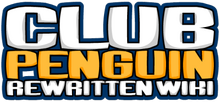 Welcome to the Club Penguin Rewritten Wiki, a comprehensive database founded on February 18, 2017 for all there is to know about Club Penguin Rewritten.
As of now, the Club Penguin Rewritten Wiki contains 4,981 articles and you can contribute to this number by adding or editing pages! The wiki is still in early development, so any contributions are heavily encouraged and appreciated to help out.
Club Penguin Rewritten Wiki Discord Server: https://discord.gg/HbQQzHa
Current and Upcoming Parties/Events
Main Article: List of Parties and Events
On-going party/event
Next Party
Upcoming Parties
Limited Time Codes
Main Article: Codes
Check the main article for available codes as no new limited codes have been distributed.
Polls
Party Poll:
What do you think of the Earth Day Party?
Other:
What is your favourite party so far?