CPR Wiki Announcements

Club Penguin Rewritten will unfortunately be closing on March 4, 2018. The wiki is still missing information, so feel free to help out.

Explore
Welcome to the Club Penguin Rewritten Wiki! We were founded on February 18, 2017, and are still thriving today. This wiki is all about the online MMO game, Club Penguin Rewritten. We currently have 4,643 articles of information and 186,748 contributions, but we're still missing lots of pages! We're always open for help.
---
---
Map
Other Wikis

Club Penguin Rewritten Archives
Club Penguin Rewritten SWF Archive

Pengur Wiki
The Official Wiki for Pengur

Poll
What's your favorite puffle game?
---
Click here for more Polls!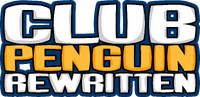 Club Penguin is a registered trademark of Disney Canada Inc. The Club Penguin Rewritten Wiki is in no way affiliated with Disney or Club Penguin.