Template:Header
| | |
| --- | --- |
| File:Penguin Style Sept 2010 10.png | Welcome to the Club Penguin Rewritten Wiki! We currently have 4,643 articles of information, but we're still missing lots of pages! We're always open for help. |

The Fair 2017 is here! Rookie will be making visits during this party! Earn your tickets from fair games and get epic prizes.
For all events in 2017, click here.
Template:Header
| | |
| --- | --- |
| | The Beta Hat T-Shirt can be unlocked by using the code '1MILLION'. Happy 1 million penguins, everyone! |
For all the current codes, click here.
Was The Fair 2017 worth the wait?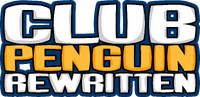 Club Penguin is a registered trademark of Disney Canada Inc. The Club Penguin Rewritten Wiki is in no way affiliated with Disney or Club Penguin.