Line 12:
Line 12:
 

|1=[[File: Beta.png|11px|link=]] Upcoming Party/Event}}

 

|1=[[File: Beta.png|11px|link=]] Upcoming Party/Event}}

 

{| style="padding: 0px; small-caps;"

 

{| style="padding: 0px; small-caps;"

−

| valign="center" |[[File:The Fair.png|left|thumb|95x95px]]The Fair 2017 begins on September 20 and ends on October 4. [[Rookie]] will be visiting as a mascot for this party. Penguins will be able to earn tickets from playing fair games and spent them for prizes.

+

| valign="center" |[[File:The Fair.png|left|thumb|95x95px]]The Fair 2017 begins [[Rookie]] will be visiting as a mascot for this party. Penguins will be able to earn tickets from playing fair games and spent them for prizes.

 

|}

 

|}

 

For all events in 2017, [[List of Parties and Events in 2017|click here]].<br />

 

For all events in 2017, [[List of Parties and Events in 2017|click here]].<br />
---
Revision as of 15:25, 26 September 2017
Template:Header
| | |
| --- | --- |
| File:Penguin Style Sept 2010 10.png | Welcome to the Club Penguin Rewritten Wiki! We currently have 5,093 articles of information, but we're still missing lots of pages! We're always open for help. |

The Fair 2017 begins soon! Rookie will be visiting as a mascot for this party. Penguins will be able to earn tickets from playing fair games and spent them for prizes.
For all events in 2017, click here.
Template:Header
Error: Image is invalid or non-existent.
| | |
| --- | --- |
| | There are currently no limited unlockable codes. Check the list below for all codes. |
For all the current codes, click here.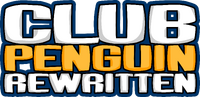 Club Penguin is a registered trademark of Disney Canada Inc. The Club Penguin Rewritten Wiki is in no way affiliated with Disney or Club Penguin.
Community content is available under
CC-BY-SA
unless otherwise noted.