Template:Header
| | |
| --- | --- |
| File:Penguin Style Sept 2010 10.png | Welcome to the Club Penguin Rewritten Wiki! We currently have 4,627 articles of information, but we're still missing lots of pages! We're always open for help. |

The Fair 2017 begins on 20th September. Rookie will be visiting as a mascot.
For all events in 2017, click here.
Template:Header
| | |
| --- | --- |
| File:Blue lei.PNG | There are currently no limited unlockable codes. Check the list below for all codes. |
For all the current codes, click here.
Who is your favorite original mascot to Club Penguin Rewritten?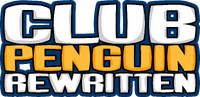 Club Penguin is a registered trademark of Disney Canada Inc. The Club Penguin Rewritten Wiki is in no way affiliated with Disney or Club Penguin.