Template:Header
| | |
| --- | --- |
| | Welcome to the Club Penguin Rewritten Wiki! We currently have 4,423 articles of information, but we're still missing lots of pages! We're always open for help. |

The current party is the Medieval Party 2017. It started on May 10th and it will end on May 24th.
For all events in 2017, click here.
Template:Header
Talk:Puffle Whistle
edited comment by Leptospirose 1 hour ago
Talk:Puffle Whistle
new comment by Leptospirose 1 hour ago
Job
comment by Landy12345 2 hours ago

| | |
| --- | --- |
| | |
| | If you guys work with Graal Era, i sent in a Events Team Applcation from Graal Era Fourms  |
For all the current codes, click here.
Are you excited for the Mystery Event?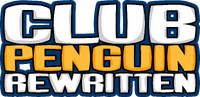 Club Penguin is a registered trademark of Disney Canada Inc. The Club Penguin Rewritten Wiki is in no way affiliated with Disney or Club Penguin.