"
Just because a company pulls a plug out of a game, doesn't mean it has to die.
"
 
Club Penguin Rewritten is a popular remake of the online-based, massively multiplayer role-playing game, Club Penguin. Since its launch on February 11, 2017, Club Penguin Rewritten has accumulated over 6 million users.
On February 26, 2018, it was announced the game would be closed on March 4, 2018. However, exactly one month later, the game was announced to be relaunching sometime in April 2018. As of April 26, 2018, the game has been up and active.[3]
History
Founding
After the announcement of the imminent closure of Club Penguin, Club Penguin Rewritten was founded to preserve and bring life back to the game that was a part of many childhoods.
Club Penguin Rewritten (CPR) is an unofficial recreation of the original Club Penguin, created to replicate the experience. It is based on the Generation 1-2 era (2005 - 2008 / 2008 - 2012), and thus it uses the same style and design. Club Penguin Rewritten strives to be accurate and true to the original and classic Club Penguin, but it also adds new content to improve the experience of the game as well.
Item Transfer Program
There was also an Item Transfer program that would transfer a player's original Penguin Age from Club Penguin over to a penguin from Club Penguin Rewritten, and give party hats according to the age of the original penguin. It was due to last until Club Penguin closed, but it only lasted from March 22, 2017, to March 23, 2017 (approximately a full day) due to Disney's discovery of the program. The program was originally meant to transfer all items from Club Penguin, but this was decided against by the community in a Twitter poll as penguins from Club Penguin with hacked items would also be transferred.
Growth
After only 30 days, the game gained 10,000 registered accounts and had its own wiki. The site reached 50,000 registered accounts on April 2, 2017, and reached 100,000 registered accounts only three days later, on April 5, 2017.
On October 4, 2017, Club Penguin Rewritten reached 1,000,000 registered accounts resulting in the 1M Players Celebration Event which was held as a celebration during The Fair 2017.[4]
The site was down from April 14, 2017, to April 19, 2017, before being re-opened. A password change option was also made available which the Club Penguin Rewritten Team recommended using. 
Legal Issues
On October 10, 2017, Disney Interactive, the owners of Club Penguin, filed a complaint against Club Penguin Rewritten.[5] Due to this, the game's domain had to be changed which took place five days later on October 15, 2017. 
On January 3, 2018, and January 19, 2018, through January 21, 2018, the website was closed for maintenance. 
Codey's demotion and post-demotion
According to former administrator Codey, the administrators wanted to add a "sled racing update" for the Game Upgrades catalog. Codey disagreed to releasing the update due to many other bugs that needed addressing.[6] He later saw that the update had been released without his approval, so he decided to ban Joee, which he regretted. Codey was subsequently fired from his position on February 8, 2018, for an "array of reasons" according to the Club Penguin Rewritten Team.[7]
After his demotion, he still had control of the CPRewritten Twitter account. On February 15, 2018, he made a tweet via the CPRewritten Twitter that Club Penguin Rewritten's custom made source,[8] Auroris, was now open-sourced.[6] The repository released by Codey was later disabled due to a DMCA takedown notice because he had no permission to open source Hagrid's work.[9] Sometime after the shutdown in March 2018, Hagrid open-sourced an outdated version of Auroris.[10]
Temporary Shutdowns
According to Stu, Codey and friends began harassing and threatening certain staff members with swatting and revealing personal information to get the game shut down.[11] This led to the staff announcing on February 22, 2018 that the game was shutting down, but they quickly deleted the announcement and said that the game was staying.[12] They also regained control over the main twitter account the same day.
According to the staff, the threats continued and four days later on February 26, 2018, the game was announced to shut down again for real this time. The game was shut down on March 4, 2018, but was brought back a month later.[7] Codey, however, claimed to not be associated with the criminals that made the threats. The incident caused the Club Penguin Rewritten staff to rethink how to handle safety and security on the internet better to make sure something similar doesn't happen again. According to the admins, they cooperated with cyber-security experts during the time Club Penguin Rewritten was offline.[7]
On February 26, 2018, it was confirmed that
Club Penguin Rewritten
would shut down on March 4, 2018, and would not come back. This would mean that the
website
, the game, account data, and more would be removed permanently, with all important information such as emails and passwords being wiped for security reasons.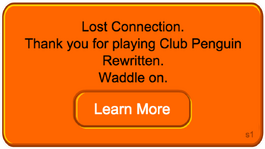 On March 4, 2018,
Club Penguin Rewritten
was discontinued at around 14:00 Penguin Standard Time.
Relaunch
On April 4, 2018, It was confirmed that Club Penguin Rewritten would be returning in April 2018 via their Twitter. It was also confirmed that all user accounts would remain intact at relaunch.[13]
On April 26, 2018, Club Penguin Rewritten officially relaunched, with all accounts intact, and the Earth Day Party 2018 going on.
The site reached 2,000,000 registered accounts on June 2, 2018.[14] As a gift, two codes were released.
New Year's Day 2019 Controversy
On December 31, 2018, the Admins and the rest of the Community were celebrating New Year's Day 2019.
To celebrate, some of the Admins reportedly became drunk, and as a result, their drunk behavior was reflected in the Discord Server after they began to play inappropriate songs and used seriously explicit language in the general community chat.[15] To cover up this incident, the general community chat was deleted and a new one was formed.
Joee apologized on the Admins behalf.[16]
Further Growth
The site reached 3,000,000 registered accounts on January 11, 2019.
The site reached 4,000,000 registered accounts on April 20, 2019.
On April 26, 2019, Club Penguin Rewritten introduced its first custom puffle - the Grey Puffle as part of the Puffle Party 2019.
The site reached 5,000,000 registered accounts on October 22, 2019, and 5,500,000 around March 19, 2020.
During the release of the Fashion Party, Club Penguin Rewritten saw its highest player count of around 3,800 penguins online concurrently.
On April 16, 2020, Club Penguin Rewritten held a successful concert in collaboration with American singer Soccer Mommy in promotion of Soccer Mommy's new album, Color Theory. The concert was the first of its kind and was viewable on all servers.
The site reached 6,000,000 registered accounts on April 21, 2020. This meant that 500,000 new players had signed up in the span of around one month, which may be due to the large influx of people playing during the COVID-19 pandemic.
Legal Issues with Disney and Staff Controversies
On May 1, 2020, Lataus announced his resignation from the Club Penguin Rewritten Staff team, at the time citing a "lack of genuine interest" in the game.
On May 13, 2020, Disney Interactive began to send out Digital Millennium Copyright Act (in short, DMCA) takedown notices to various Club Penguin Private Servers that were infringing on Disney's copyrighted content (Club Penguin), shutting some of them down indefinitely. This was done in response to serious allegations concerning another Club Penguin Private Server. Many people were concerned with Club Penguin Rewritten possibly being taken down, but the Admins reassured that "CPRewritten has no plans to close". Unbeknownst to the community, Club Penguin Rewritten had received a DMCA takedown form filed on May 13, 2020[17], but Club Penguin Rewritten did not address it, and they also banned anybody from their Discord Server that tried to talk about it.
In the midst of the situation, no formal announcement was made by Club Penguin Rewritten to any of their Social Media channels. The only information given at the time was through a pinned message in one of the channels in their Discord Server. As a result, Halopona tried to reassure that Club Penguin Rewritten was not closing down through Twitter, but he was allegedly forced by the Admins to take the Tweet down. This may have caused arguments within the Staff team in the Staff Discord Server. The situation worsened after Thorn released a statement stated that the "opinions and actions of Moderators do not represent the views, opinions or actions of CPRewritten or the Administrative team and should not be related to the overall CPRewritten team in any way." Taking this as belittlement, the Moderators demanded an apology for Thorn, having enough of the treatment they received.
On May 15, 2020, at around 3:30 pm Penguin Standard Time, after talks between the Admins and the Moderators fell through, several moderators decided to resign as a last resort. In all, eight in-game moderators out of ten total and four discord moderators out of five total resigned. Most cited their poor work environment or worry for their mental health as reasons for their resignation. The multiple resignations impacted the community, fueling fears for Club Penguin Rewritten's future.
Tensions flared up on May 16, 2020, after an anonymous Twitter thread [18] was posted, making public various issues within the Staff team, particularly between the Moderators and the Admins. These possible issues usually consist of improper communication between both parties, especially in regards to the recent DMCA takedown form Club Penguin Rewritten had received. Several screenshots from the Staff Discord Server was also attached, showing arguments between the Admins and the Moderators over the situation, as well as the final moments before the mass resignation.
In response to the leaked screenshots, several members in the community began to demand for better treatment towards the Moderators, as well as better transparency between the Admins and the Community. This later escalated into mass spamming of the Discord Server, which resulted in multiple restrictions being imposed such as a five-minute slow-mode that only allowed a user to send one message every five minutes. This started the hashtag "CyaIn5Minutes" on Twitter. On May 17, 2020, former artist Cami revealed that she had been banned from the Discord server and in-game for supposedly no reason on Twitter [19] and she demanded that her art be removed from the game, or that the Admins issue an apology and unban her.[20] This only escalated tensions between the Admins and the Community as people began spamming "Justice for Cami" in the chat.
As the situation grew worse and worse, and with no signs of the community stepping down, the Club Penguin Rewritten Discord Server was closed on May 17, 2020, at around 12:45 pm Penguin Standard Time. An informal announcement was given prior to the closure. During the period where the Discord Server was closed, nobody could chat in there. As time passed, several people in the Community began voicing out on Twitter that they wished for the Discord Server to be reopened as they had missed socialising with their friends.
On May 30, 2020, at around 5:30 am Penguin Standard Time, the Discord Server was reopened, with several restrictions put in place. Many were happy with the reopening at first, however, controversies began to ensue after several members were banned for various reasons, such as attempting to talk about Thorn, requesting that users in the Discord Server that had banned to be un-banned, mentioning Cami's name or even charlie, one of the moderators who resigned on May 15, 2020, who was also banned from the Discord server for supposedly no reason. This was due to stricter punishments having been put in place, which was that any rulebreaker, regardless of the severity of the offence, would be permanently banned from the Discord Server.
On May 30 and 31, 2020, hagrid[21] and Joee[22] resigned respectively. With only five Staff members left, many have begun to worry about the future of Club Penguin Rewritten. Cami, a former artist of Club Penguin Rewritten, also revealed that her account had been deleted from the game completely. As a result, she continued to demand for her art to be removed from the game, such as the Dot Stamp and Dot Blackout Giveaway. This was also partly due to an ongoing feud between her and the Admins. Her artwork was removed later that day.
As of June 22, 2020, the status of Club Penguin Rewritten and/or the DMCA takedown form filed is currently unknown. It is also unknown if the Staff will be hiring any more moderators.
Super Safe Chat
Super Safe Chat is a special chat filter designed specifically for new players, players that have recently been banned, as well as users that are at a high risk of breaking rules. It was implemented on June 12, 2020, alongside the Music Jam 2020. This was in response to the lack of Moderators being available to moderate Club Penguin Rewritten, leading to multiple users breaking many chat rules, attempting to bypass the filter and mentioning controversial topics ongoing at the time in June 2020.
It was first pitched by Thorn in 2018 and was in development in February 2020. It was in testing from June 9 to June 12, 2020. It was enabled only for its appropriate user groups when the Music Jam 2020 released.
Server Incidents
On July 27, 2017, Club Penguin Rewritten suffered a DDoS attack. This led to server maintenance from July 27, 2017 through around mid-August.[23]
In January 2018, Club Penguin Rewritten suffered a database breach, affecting almost 1.7 million unique email addresses alongside IP addresses, usernames and passwords stored.[24]
On July 27, 2019, exactly two years after the 2017 DDoS attack, Club Penguin Rewritten suffered a database breach affecting over 4 million accounts.[25] Following this, the Staff released an announcement on the website.[26]
Censorship Controversies
Throughout the course of Club Penguin Rewritten's history, certain events such as database breaches or DMCA takedown forms being filed was usually a topic that was not allowed to be discussed in the community. Most of the censorship occurs on the Discord Server.
These topics have consisted of but not limited to:
Speaking about former moderators or permanently banned moderators.
Speaking about Discord Server bans.
Digital Millennium Copyright Act takedown notices

Discord Moderators were directed to tell users in the Discord Server to "read the pinned messages (that was sent by Thorn)" so as to prevent further discussion about Club Penguin Rewritten shutting down.
As a result, whenever such topics or anything similar of the sort is mentioned, Staff would either delete the message or even ban the user or some members in the community will ask to change or drop the topic.
Due to how far censorship goes, many people in the community have begun to complain about the censorship. It was also highlighted during the May 15, 16 and 17, 2020 events that took place in the Discord Server, as well as in the aftermath where several users from the Discord Server were banned for speaking against Thorn or talking about Cami or charlie.
Trivia
Club Penguin Rewritten was originally planned to just be an archive for Club Penguin accounts.[27]
DJ Maxx, Rory, and Jet Pack Guy were made as mascots exclusive to Club Penguin Rewritten as custom content.
There were parties that were announced prior to the unexpected closure message, the party that was supposed to be taking place after the Penguin Play Awards 2018 was the Puffle Party 2018 which was supposed to begin on March 7, 2018, but instead, it was replaced by the Waddle On Party due to the game's closure. However, due to the game's relaunch, the Puffle Party 2018 was continued on May 9, 2018, until May 16, 2018.
Gallery
Videos
References
External links
Website
Social Media
Main article: Social Media
Community content is available under
CC-BY-SA
unless otherwise noted.